Best Roads for Joyrides Around Malibu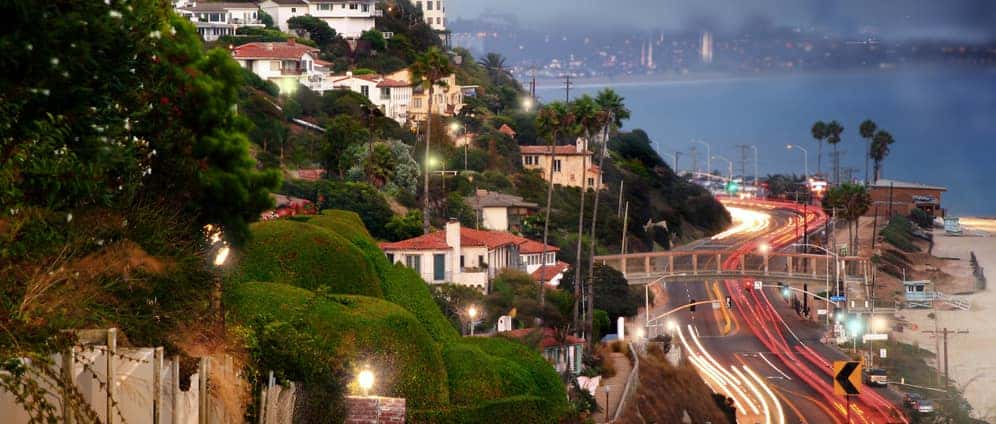 A great way to enjoy the world-class performance of your Porsche Macan, 911, or comfortable interior of your 2019 Panamera is to take a drive out to Malibu. Famous for its sunsets, beaches, and as the home of many movie stars, Malibu offers a number of scenic canyon roads for you to explore. Here at Porsche Westlake we've compiled a list of just a few of our favorite roads for joyrides around Malibu.
Pacific Coast Highway
Whether driving north from Santa Monica, or south from Oxnard, the Pacific Coast Highway offers sweeping ocean views, access to some of the best beaches in Southern California, and plenty of other roadside attractions. The PCH is a very popular road to drive on weekends and holidays, especially in the summertime, and the traffic can be heavy. That doesn't matter though if you're just out for a drive with no schedule to keep. A few of the many places to check out on your drive down the PCH include:
Point Mugu Rock – Just south of the Point Mugu Naval Base, this large and impressive rock formation may look familiar. This stretch of the PCH has appeared in countless movies, TV shows, and commercials.
Zuma Beach – The long, wide beach at Zuma is one of the most popular in the area. There's a large parking lot with a concession stand where you can pick up a hot dog or a burger to enjoy while you watch the surfers and the waves.
Point Dume – A picturesque beach below towering cliffs, Point Dume, like Mugu Rock, has been featured in a number of motion pictures and TV shows — most memorably, perhaps, was as the beach where Charlton Heston discovers the half-buried Statue of Liberty at the end of the original Planet of the Apes.
Malibu Pier – A walk on the pier provides expansive vistas of the Pacific Ocean including the adjacent Surfrider Beach. There is a restaurant and bar at the entrance to the pier which serves lunch, dinner, and weekend brunch. At the end of the pier is a cafe that serves breakfast, lunch, and dinner.
Encinal Canyon Road
Encinal Canyon Road Can be accessed on the PCH at El Pescador State Beach or from Mulholland Highway to the northeast. The view from the top of the coast's canyon as it winds around Point Dume is spectacular.
Decker Canyon Road
Running parallel to Encinal Canyon Road, Decker is a winding road with many hairpin turns, but well worth traveling on for a scenic drive through the chaparral and farmland. You'll also have a chance to appreciate the precision handling that your Porsche is capable of.
Latigo Canyon Road
Winding road through the Santa Monica Mountains from Kanan Dume Road to central Malibu, Latigo Canyon Road is a scenic drive that should not be missed. A turnout about 1.4 miles from the PCH offers postcard-perfect views of the coast.
Tuna Canyon Road
Starting out as a two-way residential street up near Saddle Peak Road, Tuna Canyon Road continues as a one-way road all the way down to the PCH. Keep your camera ready, because you'll have ample opportunities to snap some stunning photographs of the hills and ocean views.
Experience All That a Porsche Has to Offer at Porsche Westlake
There's no better way to enjoy a drive in and around Malibu, or enjoy a Thousand Oaks joyride, than behind the wheel of an exciting new Porsche. Can't decide which Porsche model will best suit your needs? Take a look at our 718 Cayman vs. 911 comparison, then explore our new Porsche inventory. Make sure to check out our new vehicle specials, and contact us to schedule a test drive today!
Want more local tips? Find the best Malibu hikes with our team!
More from Porsche Westlake
The 2023 Porsche Panamera is a thrill to drive thanks to its bigger-than-life power and smooth handling. But what about the interior of the new Porsche Panamera? You can expect a deluxe cabin designed with you in mind. From the latest technology to comfortable yet elegant seating, the cabin will keep you relaxed and…

The 2022 Porsche Cayenne is as versatile and capable as any SUV on the roads near Agoura Hills—but it's also exceptionally fast, and ready to dominate on the track. The most impressive 2022 Porsche Cayenne 0–60 time belongs to the Porsche Cayenne Turbo GT, clocking in at just 3.1 seconds! However, even if you don't opt…

The range of available 2022 Porsche Cayenne colors knows virtually no bounds. After all, in addition to being offered in a wide range of interior and exterior stock colors, the Porsche Cayenne can be configured and ordered with almost any custom color that you can imagine. Whether you plan on reserving a new Cayenne or…